April 27th Thursday
I was invited to the Top 20 Dinner with my family cuz my GPA is 16th highest in class of 2006!! Teachers introduced 20 students to everybody at a restaurant. I asked Mr.Ochs, my favorite history teacher, to present me. I answered a questioneer before and he presented me along the paper. I wrote "My favorite teachers are Mr.Ochs, Mr.S, Mr.V" so he read that.
After the dinner my English teacher, Ms.Kellas came to me and she was like "Hey Ayaka I didn't know that ur favorite teachers are all men!"
So I was like "....ah...I'm sry i forgot to put ur name on the list...I noticed that after I tuned in the paper...." She helped me a lot when my English was heck a bad but she is a ok teacher for me...I think she ment that her name was not on the list....hahaha....oh well....lol I hope it was just a joke lol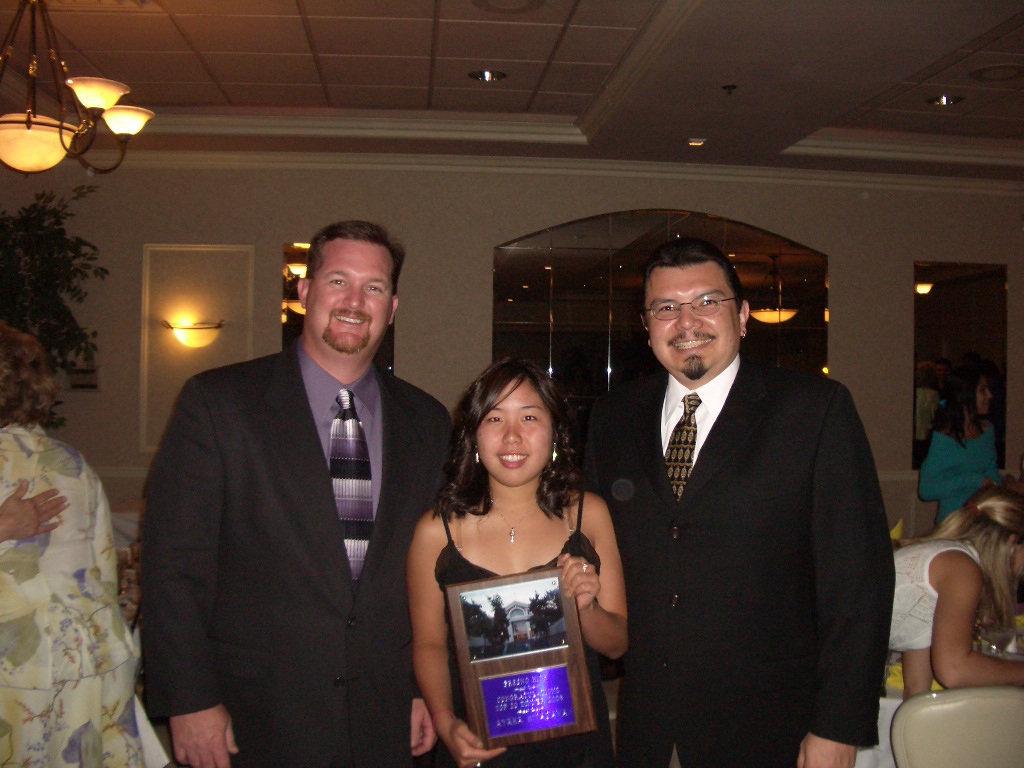 April 24th, Monday
It's a senior week!! We had some presentation for graduation and future jobs and we also did some fun activities!!
During we did fun stuff Freshman, Sophmore and Junior had to take tests for a week!! hehehe I'm so glad that I'm a senior XD lol Actually those presentations were soooo boring, though...but I kept talking to my friends and had a good time XP
April 21st Friday
We guested California Blood Center for Blood Drive in Fresno High. I was in charge of entire drive so I worked so hard for it.
First, we went to some coffee shops to pick up some cookies that they gave us for free. Then put some signs everywhere in campus and put some helium in the balloons. We did those things between 7 to 8 o'clock in the morning.
Then the Blood Drive started. Students had to have their parents signatures to be donors but most of them signed by themnselves...some of them called their parents before that so I think it was ok...lol Mom bought 15 pizza's for the donors...i guess that's why so many ppl wanted to donate thier blood. It was also good excuse to get out the class for an hour!!
The Drive was 8 to 12:30 and we got 125 donors!!! I heard Clovis High got 112 donors so we beated them!!! I worked for this for more than 1 month; visited classes to give presentations, call somewhere, made signs and flyers...etc!! I worked so hard and it was great successful so I'm just happy! XD
Through these whole process, I got more confidence. We had so many troubles but we broke them down and made it!!! I talked in classes to explain the Blood Drive with my bad English. I really didn't have confidence with my English but now I have more!!!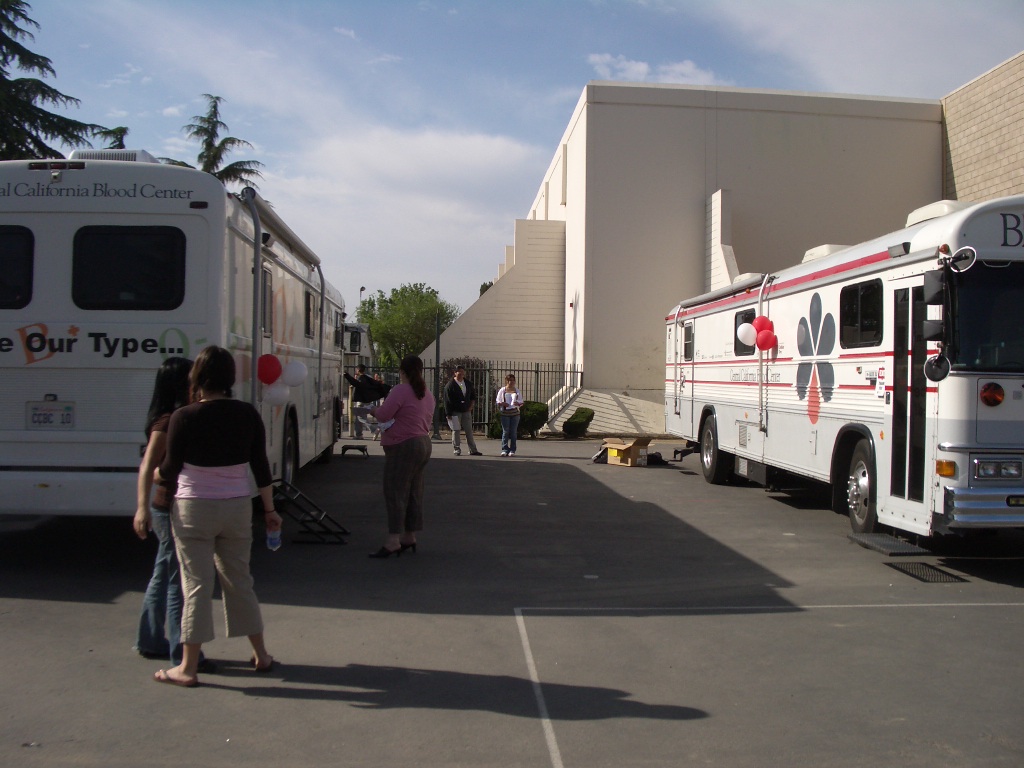 Hey Guys!! How have u been??
I couldn't get in the internet so I couldn't write my blog,,,sry.
Thanks for reading this again :D
So I'm gonna tell u what I did in this break simply!
The first 4 days I went to San Francisco.
Out hotel was in Japan Town so I went to Japanese stores everyday!
We got 15 melon pans(Mom's favorite), mochi, ume, non-no,ramune...etc.
I was soooo happy with these :D
Mom's sis just got married so had a big dinner together.
I met Jin, one of my friends from Japan who is in Seattle right now.
He was also in S-F with his friend from Norway.
We hang out almost everyday and talked a lot!
One day Jin and I talked over night at Denny's until 7a.m....!!!!
We were so CRAZY and I can't write what we talked about...lol
The rest of break, mostly I spend time with Ian vV
We went to movies ("Ice Age 2"&"SLITHER"...such a gross movie!!),
BBQ and Kings Cyanyon National Park!!
We also painted bunch of eggs for easter! I got a easter basket from Ian's mom :)
So this break was soooooo FUN and went so fast!!
How was ur break? Hope u had a good time!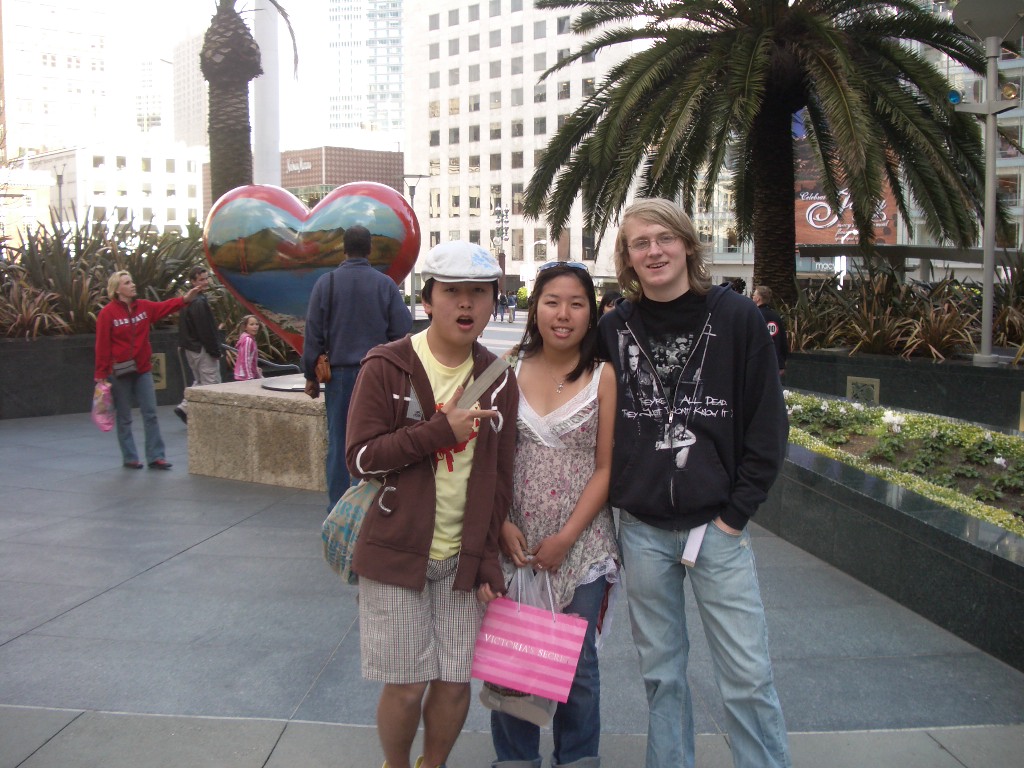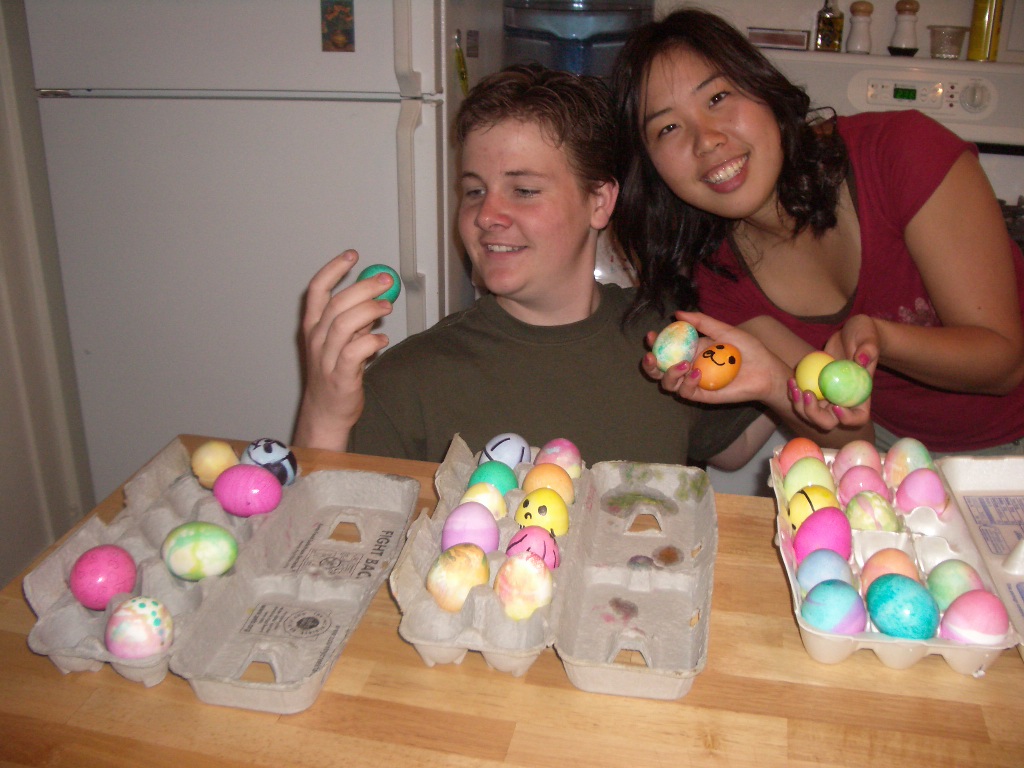 遅くなりましたが・・・日本にいるみなさま進級おめでとぉッ☆タメのみんなゎもぉ受験にむけてがんばってるんだよね。。。ぁらら・・・あと10週間後にゎあやかも受験にむけて勉強はじめなきゃだょね。。。
あのね!!音楽部のみなさん、やってくれました!!3月に定期演奏会があって、ここ数年の大成功だとか!!!あやかがそこにいなかったのゎすっごぃ残念だけど、みんなのこと、ちょー誇りに重いマスO(≧▽≦)" GOOD JOB!!!
あのね、こっからちょっと暗い話。。。
サンフランシスコにいるとき、ホストファミリーとちょっとおもめちゃぃました。。。理由ゎ12時までに部屋にもどるはずだったのに、1時まで仁とホテルのロビーではなしてたのね。1時くらいにパパがしたまでおりてきて、あやか達の会話に参加♪で、30分くらぃして、疲れたから寝るねぇーって部屋に帰って・・・あやかゎパパがただ無事かどぉか見にきて、部屋に戻れとかゆわなかったから、まだ話してておっけーって事だと思ったのね。で、2時頃、ホテルの人にロビーからおいだされ、道はさんだ反対側のデニーズへ。で、心配するのわかってたから、パパとママのケータィにメールいれといたの。で、空が明るくなった頃、7時半に部屋に戻りました。
前日ホストファミリーに夜どぉし話したいってゆったとき、次の日おきらんなぃからダメってゆわれたのね、ってことゎおきればおっけーじゃん?って思って、そんなわけで、仁とデニーズで語っちゃったワケ。。。朝2人ゎなにもゆわなかったんだけど、フレズノの帰ってきてから、何で12時に帰ってこなかったの?約束守んなかったから、なんか罰を与えなきゃっておもうんだけど・・・で、イアンと山行くのダメにするから。ってゆわれ・・・
あやかゎただショックで2時間位部屋にこもってないてました。。。夜ご飯の時、なんかつけたしたぃ?ってゆわれ、パパがなにもゆわなかったコト、メールしたこと(彼らゎメール受け取ってなぃんだけど。。電波が悪かったのカモ)、おきられると思ったから朝までしゃべってたこと、をゆって。そしたら、ん~じゃぁあやかゎあたしたちが思ったほど自己中だったわけでゎなく勘違いだったんだねーってわかってくれて、仲直り☆今になって考えれば、絶対2人が心配するのわかってたし、すごぃわるいなぁーっておもうけど、とにかくあの日ゎハィで・・・まぁそんなこんなの旅でしたぁ。。。これが最初で最後のけんかになりますよぉに・・・はぃ反省してます。。。笑
April 7th Fri
I became a REAL senior today in Japan!! Hehehe :P I can't believe I'm already in the 3rd grade in my highschool and I don't wanna be...that means we have to study harder....Anyway I'm in the spring break now :D It's gonna be a busy week!!!
It was so sunny today so afterschool I was lying on the grass with Larissa and Simone only with
bras
and shorts!!! hehehe :P cuz we wanted to get teint...u can really see my swimsuit shape...so UGLY for my prom dress.. I think I got some sunburn; My back kinda hurts... Nobody looked into the backyard except Mom...lol When she came home she must have been surprised cuz 3 half naked girls were lying on the grass!! hehehe
Then I came to Larissa's and am staying over night, U know what? I messed up my HF's computer so I can't get in the internet at home...too bad X(
April 6th Thusday
We had food fair during lunch today and yesterday. Yesterday I sold some tamales with choir people and today we sold some chili dogs with swim people. the coach was so rude and she was on my nerves...I worked for the swimteam all the time so I didn't have enough time to go around. I heard that they had good brawny&icecream so I asked Ian to get one for me. Actually he got one but he ate them all... I was so mad for everything today... I was really in the bad mood maybe because I had lots of big project so I was so stressed... but he got another one for me later and it made me happy :D :D :D
I had a swimmeet and I beat somebody in the 100 back for the first time!! I touched the wall 1 second before the opponent touched!!! The team got excited and I felt so good !!! So it turned out to be a good day today!
April 4th Tuesday
At night I went to see the school play "Little Shop of Horror" with Ian. My bestfriend Jannah, Steacy, Kim, Marcy were in the play. They sang so good and did good job! The story end was not clear but it was still fun :)
April 2nd Sunday
I went to a assisted living(roujin home) in Hanford to meet Marge, one of Mom's friends. She is 81 years old and she talked a lot about herself more than 2 hrs, so I was kinda tired but her story amazed me. She told me a story about her marriage. She got mattied in December in 1941, when one week ago the Pearl Herber was bombed. I was surprised because those things on the textbooks are part of her life!!!
Then went to Gail's, my AFS LP. I met Merete, from Norway & Esteban from Chili& Laura from France & Sarah from Germany! We talked a lot and had a good time :D
April 1st Sun
It's April fool day today but I really didn't trick anybody...I just kept forgetting until now...too bad X(
I took SAT. It took like 5 hrs...I was exhausted when I was done. Now I think I'm really good at Math....lol
Then went to Kathy's house for a surprise party for Larissa's b-day with Ian. I invited all the people from swim team but nobody came except one girl...too bad. But we still had a great time and Larissa didn't know that we planed to the party! After that we went to bowling!! Today I wore a pair of pants which I brought from Japan!! I couldn't wear those in this 2-3months but now they fit me again!!!!! Yapeeeee!!!